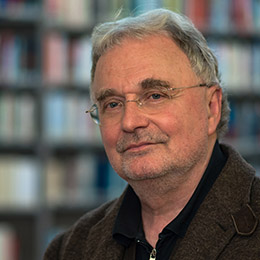 Permanent Fellow Emeritus (1983 - 2015), Editor, Transit - Europäische Revue (1990 - 2015)
Klaus Nellen studied philosophy and German literature at the Ludwig Maximilians-Universität, Munich, and the Albertus Magnus-Universität, Cologne (Philologisches Staatsexamen in philosophy and German literature, 1974). In 1975 he joined the Husserl Archive at Cologne University where he worked as a Research Associate from 1977-1981. In 1982 he moved to Vienna to help set up the Institute for Human Sciences where he has worked as a Permanent Fellow since 1985.
From 1984 to 2015 he was the head of IWM's Patocka Archive and the related research focus The Philosophical Work of Jan Patočka. From 1983 to 2015 he was in charge of the Institute's publications including, since 1990, its journal, Transit – Europäische Revue. He is the co-editor of Jan Patocka, Ausgewählte Schriften (5 volumes., 1987-1992) and a jury member of the Paul Celan-Translation Program. Furthermore, he is a co-founder of Eurozine, a journal and network of European cultural journals in the Internet, and a member of its Advisory Board.
---
Former affiliation at the IWM:
1983, Visiting Fellow