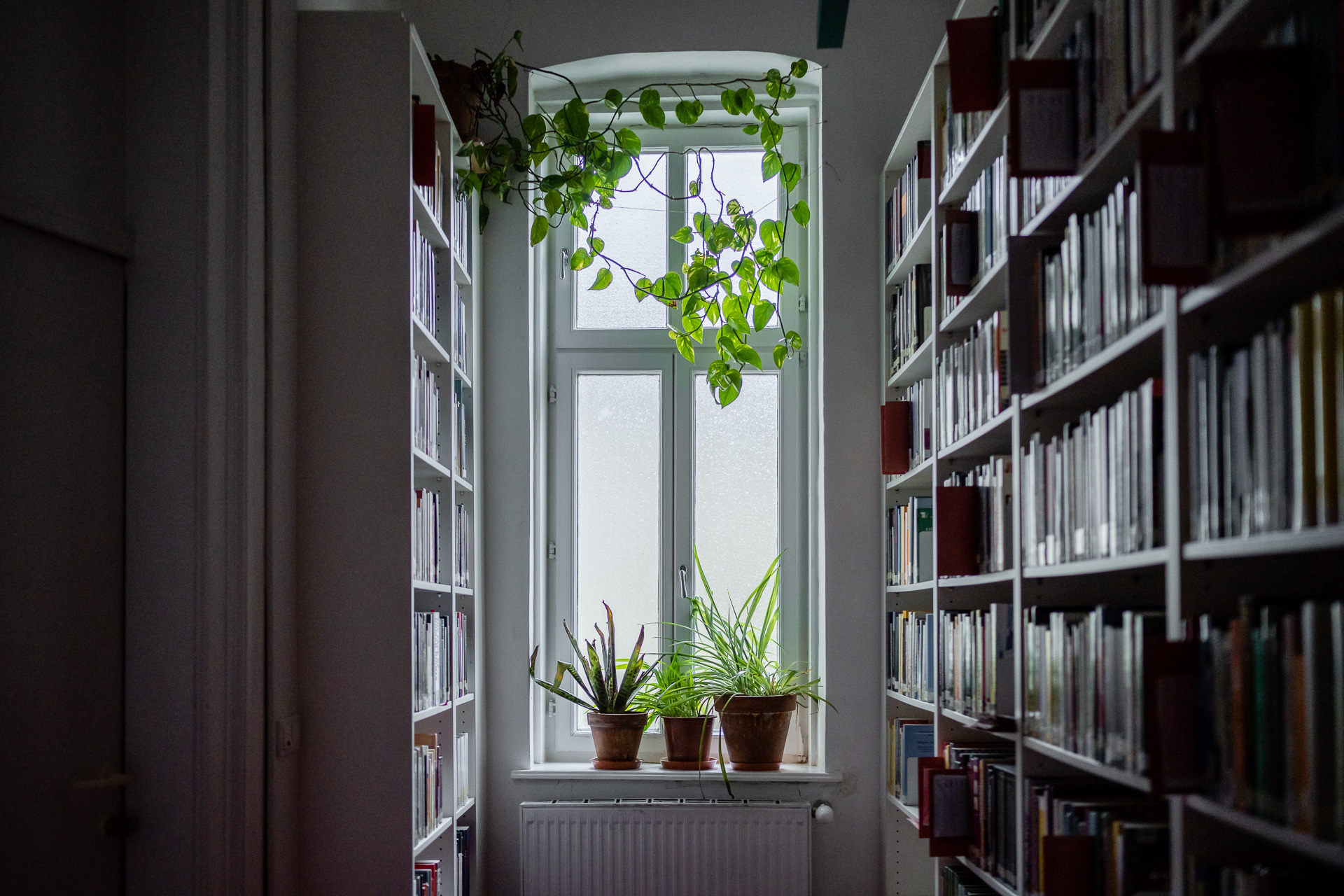 The IWM Library has grown continuously over the years and is a valuable source of information for the Visiting Fellows' research. In it, we collect books by former Visiting Fellows, Permanent Fellows, books written at the Institute, and other materials needed for ongoing research at the IWM. 
In this series of news items and blog posts we want to introduce you to the holdings of the IWM Library and our archives. 
This second installment is dedicated to the Gender Studies section of the library. 
The IWM library is categorized and shelved according to a thematic classification system and dispersed throughout the Institute. The exception to this rule is the Gender Studies section - here, books from all research areas with a gender studies focus are shelved together on a hallway on the first floor, designated by an "X" in front of the shelf mark. 
This was not always the case - the collection has grown continuously since the beginning but only after the IWM's move to Spittelauer Lände in 1992, both the collection size and importance made it necessary (and the space in the institute possible) to separate it from the rest of the collection. 
The library collection owes its size to Cornelia Klinger, former Permanent Fellow of the IWM, who conducted research on gender studies at the institute since the early 1980s and founded the ongoing research focus on the topic in 1993. Klinger was determined to build a collection of new and valuable research, as well as trusted reference works, for the library, within the institute's budgetary means. The selection of books and journal subscriptions fortunately became more difficult with each passing year as the general research interest grew and an increasing number of publications and periodicals became available. With the help of the other academic staff members, visiting fellows and thanks to several IWM research projects (the Lecture Series in Gender Studies, the EU projects QUING and MAGEEQ led by IWM Permanent Fellow Mieke Verloo) there was no shortage of suggestions and interest in the field.  
The collection currently comprises roughly 2,700 books and several journal series. This section of the IWM library is valued for its hidden gems of classic feminist literature and the published works of both the institute's projects and visiting fellows. A few years ago, the collection of journals with matching topics was moved to the same area of the institute to make access easier for the Fellows and give the wonderful collection a better chance at being discovered and read. 
Thanks to current research areas and interests at the IWM, notably within the framework of the FLAX Foundation's Emma Goldman Awards, the collection continues to grow and is as relevant today as it was when it first started to be built 40-years ago.