Why follow Belarus? History, culture, and resistance.
 I first traveled to Belarus from the US over the winter 2000 break. To celebrate my Sicilian-American mom's retirement from teaching, she and I booked ourselves on a charter tour of Eastern Europe. We soon found ourselves crossing the Polish-Belarusian border. I remember long lines of smelly convoy trucks at a slushy checkpoint. I sensed fear, though it was a moment of high optimism for European integration. I was impressed by the street smarts of our Trafalgar guide. He spoke six languages—including fluent Italian which I can't speak, being terrible at languages—and was the son of one of the Belgian founders of the company. He had cool green sweaters. I was fretful but he said not to worry. The drivers "needed help" to get through the border fast. And they did.
We finally got to Minsk. It was like everyone says it was—frozen, trapped in an undetermined decade, long after the USSR had met its formal end in December 1991. I didn't think much of Lukashenko at first. I just absorbed the showpieces, Great Patriotic War monuments, street names and Soviet unconscious spatial planning. I was twenty-two and a totally green American student. I had a few years of Russian from summer programs and patient tutors. I asked questions of everyone when we got to the city, far too many.
From my paternal side, I'd carried stories vaguely passed down about Turaw, which could have been indistinguishable from Nowy Korczyn or Kielce, our other pre-migratory lostworlds. I was my mom's travel companion and I wanted to respect her wishes to keep a distance from the family which she'd left. All in all, I was the only person on the bus aside from the guide and his driver (who was Flemish and also spoke five languages) who could communicate with locals. And always in my Euro-broken form.
Once in the city, I was introduced to "local guides"—mostly women in their 30s and 40s, and all, I thought immediately, cultured and smart. Were they Russians? I couldn't tell. I know I wasn't. I just read their books, picked up their words. I wanted to talk Chekhov and Dostoevsky. They gave formal official tours around the streets and museums. I couldn't read the signs and gestures well, but it seemed they were tired in Minsk and of Minsk, of its elemental showpiece theatre. They wanted to share narratives of a country that no one visited on purpose.
This was all before I'd read Svetlana Alexeievich, Yanka Kupala, or Belarusian history, or knew anything about the arts and culture scene (which they most certainly did). One of them chatted with me for hours. Hanna didn't ask for anything. She spoke and she listened. She shared stories on the bus vivaciously, like my grandmother and aunt used to do. I couldn't believe my good fortune. I was just an American. And that's when I really heard of Lukashenko and the country's history, in what became gruesome detail.
After the trip, just months before 9/11, I remember coming back to Brown University. I told one of my tougher advisors, "I want to study Belarus too." His response (and g-d love him, because I did), "Do they have an opera house there?" "No," I said, hesitantly. I thought I'd seen one (the Opierny Teatr!) but the tour was short and I didn't have time to go in. Thus, I cowered. The professor was in no mood to dispatch a grad student for whom he'd fought to a provincial backwater between Russia and Poland. He'd been exasperated when I'd urged him to let me do research on Vilnius and Lviv. I'd always suspected he wanted me to write a cultural history of the Ballets Russes or the vorticists or something. Ukraine would turn out to be my choice in the 2000s. Even that took gentle persuasion.
Flash forward to my Belarus follow in the 2010s.
I researched and translated for the US Holocaust Memorial Museum for six years, the stories of war, genocide and destroyed Jewish communities in many towns and cities. In Eastern Belarus, so classified, these places included Belynichi, Berezino, Buda-Koshelevo, Bykhov, Chausy, Chechersk, Cherikov, Dribin, Kostiukovichi, Krichev, Osipovichi, Ozarichi, Parichi, Propoisk, Riasno, Rogachev, Uvarovichi, and Zhurovichi. I specifically asked my boss for more Belarusian sources. Place histories for once-Jewish Belarusian towns were published in the USHMM Encyclopedia of Camps and Ghettos, 1933-1945 (Indiana University Press, 2009-present).[1]   
As I finished my other map books, I carried with me a growing interest in the history of the Stalinist purges in the 1930s. I chose one guide, Arkadz Smolich, the Belarusian Social Democratic activist, soil scientist and cartographer of an independent country, and the founder of modern geography at Belarusian State University (est. 1921). Smolich co-created the first department of geography, close to where the student activists are standing.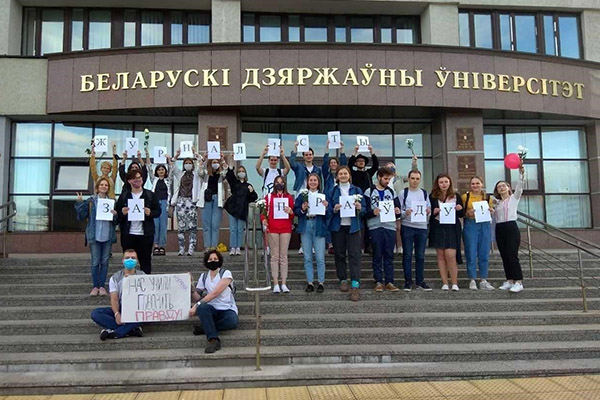 I wove the story of Smolich and his wife Alessia into mine, a modest tribute.[2]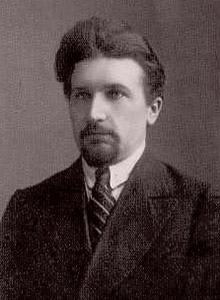 And I let his story travel with me. In the 1930s and as Stalin consolidated power, Smolich was politically removed as a geographer. He was arrested in 1931, and then shipped around to work in Soviet "modernizing" and state-managed forestry and industry. In 1938, the NKVD eventually shot him in an unmarked mass grave, part of Stalin's Great Terror, along with other Belarusian intellectuals, activists and professionals. He never returned to Minsk and Alessia never saw him again. Arkadz Smolich was 47 years old.
The impact of the Terror on the Belarusian intelligentsia was massive. Overall, 681,692 total executions were carried out for political crimes in the USSR. Timothy Snyder in Bloodlands estimated 123,421 death sentences alone for Soviet Ukraine. This number does not include natives of Soviet Ukraine shot in the GULAG.[3] In Soviet Belarus, numbers vary significantly (as high as 1.5 million "repressions") and are still hotly debated. [4] Historian Tatiana Rut'ko estimates the deaths at 10,000 persons from 1917 to 1929, over 46,000 between 1929 and 1934, and 86,168 between 1935 and 1940, of which 28,425 were shot.[5]
These mass killings devastated the Belarusian cultural elite. This is what I learned first, and anecdotally, on that Trafalgar bus in 2000. Stories passed by whispers are now in print. Stories passed by generations hide in plain sight. Geopolitical maps erase people. The Minsk Tractor Plant workers protested the bloodletting and a fraudulent election. Their sign on 14 August read, "We are not villagers, we are not rednecks, we are not lazy narodets." (A reference to what Lukashenko calls his "people".)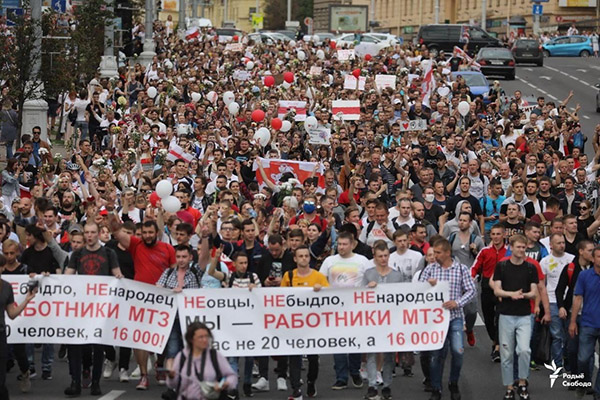 If Belarus is to be followed on its terms, certain traps have to be avoided.
Because of Kremlin propaganda and its charges of "foreign influence" by sadistic leaders and their cronies. Because of American prejudice—words of my late professor; watchers who join causes too late; the everyday courage of workers and people in the streets; and Western academic opportunists of which I'm probably one. Protesting students in journalism school and across disciplines are savvy social media citizens, yet they face a dangerous future in 2020. Workers at chemical, auto, fertilizer and nuclear plants are men and women of all ages, who've refused since 9 August to continue the sham. I followed strangers on buses. I may never meet them again.
Belarus is Europe under Lukashenko's 26-year dictatorship. It is a history of terror campaigns, self-censorship, border closures, torture and brutal violence. Crimes and human rights violations by the police state, today some 7,000 detainments at least, are on a scale unseen since the 1930s and 1940s. Belarusians in wide unison—students, workers and women protesting—will no longer stay silent. It finally matters to me as a hybrid American, in a place set between walls in 2020, where I have shaky moral grounds to stand on.
I follow Belarus and #Belarus because its people and stories intersect with mine.
Steven Seegel is Professor of History at the University of Northern Colorado (USA) and the author of Map Men: Transnational Lives and Deaths of Geographers in the Making of East Central Europe (University of Chicago Press, 2018), Ukraine under Western Eyes (Harvard University Pres, 2013), and Mapping Europe's Borderlands: Russian Cartography in the Age of Empire (University of Chicago Press, 2012). 
NOTES
[1] Free Download: https://www.ushmm.org/research/publications/encyclopedia-camps-ghettos
[2] Free Download: https://www.academia.edu/37104333/Murder_of_a_Transnational_Map_Man_Ideology_Scientific_Expertise_and_the_Fate_of_Revolutionary_Belarus_in_the_Life_and_Work_of_the_Geographer_Arkadz_Smolich_1891_1938_))
[3] Timothy Snyder, Bloodlands: Europe between Hitler and Stalin (New York: Basic Books, 2010), 107.
[4] My thanks Per Anders Rudling, who will address the statistical findings of Ihar Kuznetsau, Uladzimir Adamushka, Nikita Petrov, Arsenii Roginskii and others, in his forthcoming (sequel) history of Belarus from 1931 to 1956.
[5] Tatiana Prot'ko, Stanovlenie sovetskoi totalitarnoi sistemy v Belarusi (1917-1941 gg.) (Minsk: Tesei, 2002), 606-607.
The article gives the views of the author, not the Institute for Human Sciences (IWM).