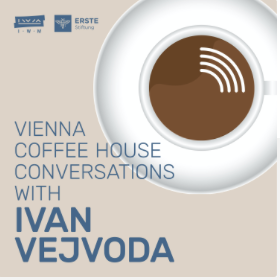 In the latest "Vienna Coffee House Conversations with Ivan Vejvoda" podcast episode, IWM Permanent Fellow Ivan Vejvoda is in conversation with Europe's Futures Fellow Nathalie Tocci. 
In this episode, Director of Rome's Institute for International Affairs and 22/23 Europe's Futures Fellow of IWM and ERSTE Foundation Nathalie Tocci joins Ivan Vejvoda to offer her assessment of the European response to the full-scale Russian invasion of Ukraine. From the often surprising unity and speed with which the EU has adapted to economic, energy and geopolitical challenges to the more fraught issues of security and defense where a clear European purpose has been less in evidence, Nathalie and Ivan discuss the strengths and shortcomings that have been revealed by the war. Looking to the future, they also address the shifting power centres within the EU, the interaction of continent-wide forces with local concerns and the consequences of the war for the psychology of enlargement policy and other EU wide concerns.
Learn more about Nathalie Tocci here.
Ivan Vejvoda is an IWM Permanent Fellow and is Head of the Europe's Futures program at the IWM.