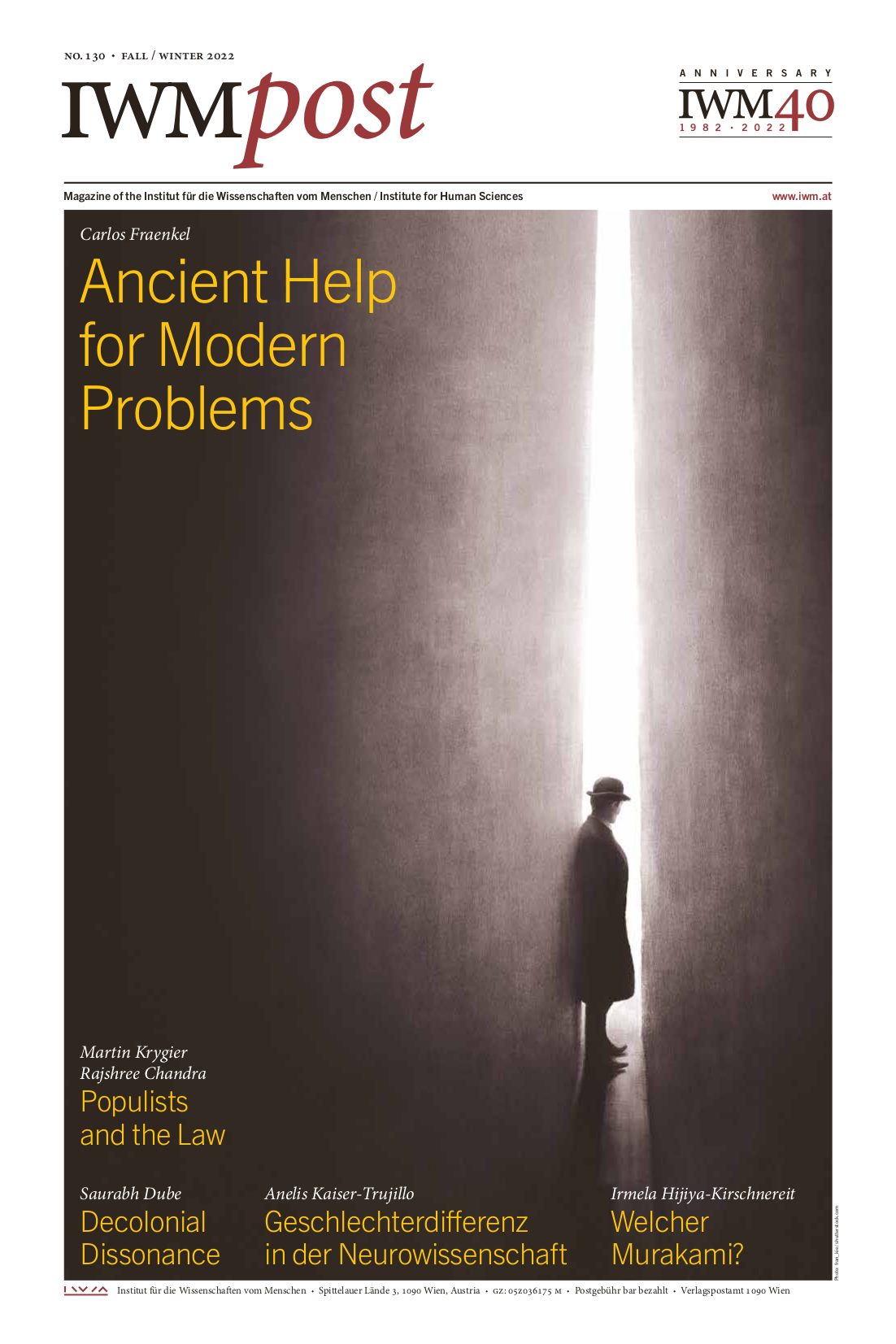 The second issue of IWMpost in the fortieth year of the IWM is intended to provide insight into the broad disciplinary and thematic range of research conducted at the institute. 
Philosophical essays are at the center of the issue. Fraenkel discusses the relevance of ancient Greek philosophy for the present, focusing on Aristotle's conception of the good life. Zawisza draws attention to the importance of the kabbalistic vision of Creation for a political theology of the West. And Barzilay problematizes changes in the political and historical understanding of humanity in view of the climate and nuclear crises. The critical implications of gender and (de-)coloniality in contemporary knowledge production are the subject of Kaiser-Trujillo's and Dube's epistemological essays.
Rambukwella and Krause elaborate on conceptual reflections on democracy and statehood, while Krygier and Chandra address the eminent importance of law in the undermining the rule of law by populists. Stiglitz, in turn, outlines the challenges the global economy faces in light of an emerging new Cold War.
Two essays turn their attention to migrant victims of climate disasters (Das) and human trafficking (Kravić-Aksamit). The Western Balkans and Ukraine are the focus of four articles in this issue. Zeneli discusses China's growing influence in the Western Balkans, while Bender puts forward suggestions for the integration of the region into the EU. The essays on Ukraine (Skubii, Tsymbalyuk) address changes in the human-environment relationship in the wake of the crises of the past and present.
Literary figures whose writings are highly divergent in terms of their reach and breadth of reception are subject of two contributions. Hijiya-Kirschnereit highlights the fluidity of Haruki Murakami's work as well as the U.S. cultural imperialism that has accompanied its global dissemination. Pokay, on the other hand, looks at the unofficial poetry scene of 1950s Leningrad, which is still waiting to be rediscovered. Cinematic science fiction and the social technological anxieties it captures are the subject of Meinecke's essay.
Last but not least, Klaus Nellen pays tribute to the achievements of a long-time friend (Peter Demetz) and an IWM fixture (David Souček).
Click here to see the full contents, and to read IWMpost 130