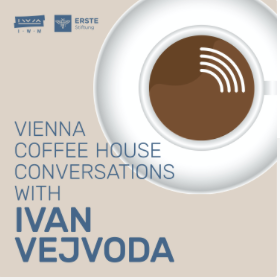 In Episode 19 of the Vienna Coffee House Conversations podcast, IWM Permanent Fellow Ivan Vejvoda is joined by Veronica Anghel, 2022/23 Europe's Futures Fellow of the IWM and ERSTE Foundation, to discuss the past, present and future of EU enlargement.
This week Ivan Vejvoda is joined by Johns Hopkins University - School of Advanced International Studies adjunct professor and former foreign policy advisor to the Romanian presidential administration Veronica Anghel to discuss the state of EU enlargement policy in 2023. As the continent redefines itself, its security and its long-term objectives in the shadow of the full-scale Russian invasion of Ukraine, what is the state of play for candidate countries seeking to join the European Union? Will this prove to be a moment when the expansion of the EU's border to encompass Ukraine, Moldova and the Western Balkans - a project that many considered stalled -can be revived? How have the requirements for entry and justification for enlargement changed since the fall of communism in the early 90s? Are unresolved border questions and the rise of right wing populism affecting the way that the EU27 approaches these questions?
Learn more about Veronica Anghel here.
Ivan Vejvoda is an IWM Permanent Fellow and is Head of the Europe's Futures program at the IWM.