Die 50. Ausgabe der Zeitschrift Transit – Europäische Revue zieht unter dem Titel "Ein Zeitalter wird besichtigt. 1989 revisited" 27 Jahre nach dem Erscheinen des ersten Hefts Bilanz.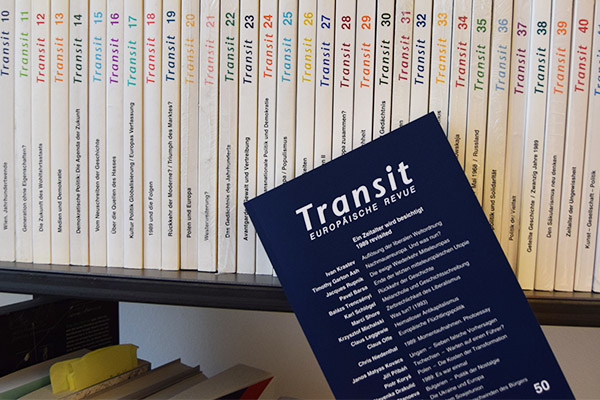 Ergänzend zur gedruckten Ausgabe sind folgende weiterführende Texte auf www.iwm.at/transit bzw. www. eurozine.com erschienen:
Steven Beller
The Empire Strikes Back! The Empire Strikes Out?
Legacies and lessons of the Habsburg Monarchy for today's European Union
Holly Case
Hungary's real Indians
Carl Henrik Fredriksson
Can It Happen Here? Our Central European Future
Pawel Marczewski
Suspekte Solidarität
Gesellschaftlicher Protest in Polen nach 1989
Timothy Snyder
Gott ist Russe
Charles Taylor
Some Conditions of a Viable Democracy (1986)
With an introduction by Klaus Nellen
Wieviel Gemeinschaft braucht die Demokratie?