Austria may come to play an ominous role in the deepening conflict between East and West, writes Carl Henrik Fredriksson in his latest Transit Online article. The future of the EU will be decided in Central Europe.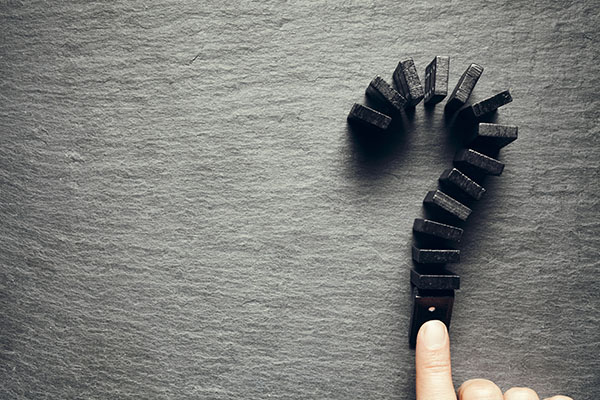 "History teaches but has no pupils," laments Austrian writer Ingeborg Bachmann in her dejected postwar novel Malina. "History does not repeat, but it does instruct," Timothy Snyder ripostes, in the pamphlet On Tyranny, penned in anger as Donald Trump prepared for his inauguration a year ago. As a historian, Snyder sees himself especially called upon to both diagnose and dispute Trump's regime change and the route towards a totalitarian society it presages.
But Snyder isn't just any historian; he is an expert on Eastern Europe. Well into the US election campaign, most commentators failed to recognize what was about to happen, he notes. But there was one group of observers who knew exactly what was at stake, namely Eastern Europeans and experts on Eastern Europe. They were able to read the signs:
"History, which for a time seemed to be running from west to east, now seems to run from east to west. Everything that happens here seems to happen there first."
Snyder's unexpected bestseller – after 44 weeks on the New York Times list of paperback nonfiction it still occupies third place – is deeply rooted in the American context in which it is written. But even though the main target of this polemic brochure is American exceptionalism – it can't happen here – its insights are applicable on this side of the Atlantic as well.
In her Transit essay "Once upon a time in 1989", Croatian-born journalist and novelist Slavenka Drakulic describes how patterns from the conflict-ridden Balkans of the 1990s are currently being reproduced in Western Europe; how identities are being politicized and nationalism is conflated with religion, resulting in a deadly brew. The West is now learning the hard lessons of the East, she notes – but in an entirely different way than we had hoped.
These observations get truly worrying when they come straight from the horse's mouth, confidently asserted by one of the protagonists in the political drama currently being staged in Europe: "Twenty-seven years ago here in Central Europe we believed that Europe was our future; today we feel that we are the future of Europe." Thus Hungarian prime minister Viktor Orbán closed his yearly summer speech in front of a Hungarian audience in Romania last July.
It was here, at the Hungarian summer university in Băile Tuşnad – or Tusnádfürdő, as the city is called in Hungarian – that Orbán in 2014 launched his vision of an "illiberal democracy", a concept that has dominated the political debate ever since, probably exceeded in Herostratic popularity only by "populism". Though the 2017-speech has received less attention, it was arguably one of last year's most interesting political deliverances.
Orbán describes the current upheaval in Europe and the US as a battle between a "transnational elite" and "patriotic national leaders". And the patriots, amongst whom he, of course, counts himself, have a mission: to defend the nation – and thereby Europe.
According to Orbán, the most important political event in the past year was neither the inauguration of a new president in the United States nor the fact that two elections in France wiped out the entire French party system. No, the most important thing that happened was that the four Visegrád countries – in addition to Hungary also Poland, the Czech Republic and Slovakia – started to cooperate "closer than ever before" and thus gained considerable influence on EU politics and policies.
So far, this influence has mainly consisted in preventing the distribution of refugees among all EU member states. "You wanted the migrants, and we didn't," said Orbán during a visit to Germany at the beginning of 2018, invited by Angela Merkel's Christian-democrat sister party CSU. It "was not a wave of refugees, but an invasion," he added, referring to the events of late summer and autumn 2015, when hundreds of thousands moved through Europe heading for Germany, Austria or Sweden. "We do not consider these people to be Muslim refugees. We consider them to be Muslim invaders."
In his summer speech, Orbán delineates what it is he is so afraid of. A strong country must be a secure state, he says. Then, as so often, he couples the notion of security with that of cultural identity. A strong country must be able to protect its borders and prevent terrorist attacks. But, he adds, "there is no strong culture without a cultural identity." And: "However much of a taboo one is breaking by saying it, there is no cultural identity in a population without a stable ethnic composition. The alteration of a country's ethnic makeup amounts to an alteration of its cultural identity. A strong country can never afford to do something like that."
This demographic-cultural complex is at the core of Orbán's nationalist ideology. He does not only call the Hungarians "an endangered species" but broadens the question to concern a whole continent: "will Europe remain the continent of the Europeans?"
Today, says Orbán, Europe is in the hands of Hungarian-American investor and philanthropist George Soros. Under the "Soros plan", the EU "is currently being prepared to hand its territory over to a new mixed, Islamised Europe".
"This is the battlefield on which Central European countries are fighting today," Orbán declares. "The European Union must regain its sovereignty from the Soros Empire. Until that happens, we have no chance of retaining Europe for the European people."
There is no doubt that Hungary's ambition is to be in the vanguard of the fight against Soros, against the "grand inquisitors" in Brussels, and against what Orbán calls the "de-Christianization" of Europe. One sign of the ideological rearmament strategy the current government pursues is the conference on "The Future of Europe" that was scheduled to take place in Budapest in January 2018, within the framework of the Hungarian presidency of the Visegrád Group. The program had already been announced when the organizers chose to postpone the conference till May, after the parliamentary elections. Even though Orbán's party Fidesz is expected to win the elections comfortably, one obviously didn't want to take any unnecessary risks – so controversial were the speakers who appeared in the program.
Invited to open the "scientific" conference is Milo Yiannopoulos, former senior editor at *Breitbart News*, the favourite outlet of the alt-right. Yiannopoulos regularly compares feminism with cancer and recently said that everyone who describes him or herself as a Muslim should be "expelled from the West". The publisher Götz Kubitschek, one of the main intellectual figures of the "new right" in Germany, will introduce a panel discussion addressing the (rhetorical) question if "we", ridden by cultural guilt, should "sacrifice Christianity, freedom and our way of life" or instead "retreat to our fortress, defend ourselves and strengthen our values and cohesion within?"
That is one way of describing the historical crossroads Europe finds itself at right now. Another would be to ask if there is anything left of the European integration project if the EU member states fail to formulate a common answer to the fateful question of migration – and if the meaning of words such as solidarity and cohesion goes beyond the mere transfer of money from west to east via structural and investment funds.
The governments in Hungary and the other Visegrád countries know what they want. They are about to fill the idea of Europe with old-new content, building outer and inner walls, inside Europeans' heads and in the landscape; walls that can keep the "invaders" away.
Will they be able to export their national-cultural vision of Europe to the West? Will that what has happened there first happen here as well?
The answer to that question will most likely come in 2018. Orbán has already declared that this will be a year of major confrontations. And, as was the case a hundred years ago, Europe's future will be decided in Austria. On 1 July, the Alpine republic will take over the presidency of the Council of the European Union for the third time after 1998 and 2006, and the preparations by the new Austrian government, consisting of a coalition between the conservative People's Party (ÖVP) and the right-wing populist Freedom Party (FPÖ), are well under way.
Already on election night last autumn there were speculations about whether Austria would formally become part of the Visegrád Group. With an ironic allusion to a film by Quentin Tarantino it was suggested that "The Visegrád Four" would now be extended to "The Hateful Five", given Austria's tough stance on migration. In the run-up to the election, FPÖ-leader Heinz-Christian Strache had declared that the approximation to the Visegrád countries was certainly conceivable: "Austria should increase cooperation with these states," he said in a televised debate, "perhaps even become a member of the Visegrád Group."
But no, Austria will never become a member of the V4. The simple fact that Austria is a net contributor to the EU budget, while the other four Central European states all get far more back than they contribute, makes the respective perspectives incompatible. Another unbridgeable abyss is that all four post-communist states are NATO members, while Austria still cherishes and – at least symbolically – vehemently defends its neutrality.
However, it has already become clear that the government of chancellor Sebastian Kurz (ÖVP) will draw even nearer to these countries as far as migration policy is concerned, with less focus on the coordinated distribution of asylum seekers according to a quota system and more on the protection of EU's external borders. This goes hand in glove with the ideas of Viktor Orbán and his Polish, Czech and Slovak colleagues.
When Sebastian Kurz, the day before he was sworn in as chancellor, presented his government's program at a press conference in Kahlenberg on the outskirts of Vienna, he referred explicitly to a proposal put forward just a week before by Donald Tusk, the president of the European Council. In order to prevent Europe from being torn apart, Tusk said that focus has to move away from the distribution of refugees.. This was right up Kurz's street. Other European leaders, however, railed against Tusk's proposal and called it "inacceptable" and "anti-European".
However, if you listen carefully to Kurz's declarations it seems as if this is just as much about political tactics as it is about ideology. "We consider ourselves as bridge-builders in Europe," says Kurz. "I strive for close cooperation with Germany and France and other states. At the same time I want to have good relations to the eastern parts of Europe."
The new stance regarding migration policy will allow Austria to play a mediating role between the Central and Eastern European states and their western adversaries – a role that corresponds well with the country's geographical location as well as its historical legacy. "This has always been good for our economy," Kurz said in an interview with Der Spiegel shortly after the elections. "And politically," he added, "I believe this to be our obligation."
The question remains, however, as to whether those countries who (next to Austria!) have carried the heaviest burden connected with the reception of refugees – above all Sweden and Germany – will consider this standpoint "neutral" enough. When Herbert Kickl (FPÖ), a minister in Kurz's government, declared at a meeting of EU interior and justice ministers in Sofia at the end of January that Austria will not support the mandatory migrant quota and relocation system, international commentators took this to mean that Austria was joining the no-side of the conflict rather than placing itself in the middle. Frankly, it is hard to object to that inference.
Siding with the Visegrád countries in the migrant quota question is not the only "eastern stance" Austria's new government adopts. In a much publicized [interview with the newspaper Kurier, foreign minister Karin Kneissl seemed to suggest that the EU sanctions imposed on Russia in response to the illegal annexation of Crimea and the destabilization of Ukraine should be lifted. Answering the question of whether the sanctions are wrong, she noted that they have been unsuccessful. In fact, she said, the only sanctions that have ever "led to a result were the sports sanctions against the Republic of South Africa".
Much can be said to refute both these claims, but regardless of whether Kneissl's analysis is correct or not, it seems clear that, here too, Austria wants to take on the role as "bridge-builder" between east and west.
Kneissl is, as she doesn't get tired of emphasizing, not formally affiliated with any political party, but she was nominated by the FPÖ. In December 2016, FPÖ-leader and now vice chancellor Heinz-Christian Strache signed a five-year cooperation agreement with Vladimir Putin's party United Russia. The pact includes passages on mutual non-interference, the promotion of dialogue and economic development as well as "the raising of younger generations in the spirit of patriotism and work enjoyment".
"Internationally, the Freedom Party continues to gain in influence," wrote Strache on his Facebook page, commenting on the signing of the agreement in Moscow. It is difficult to imagine that he will give up these international ambitions, now that he and his foreign minister are finally in a position to actually promote them.
The agreement between FPÖ and United Russia was the first of its kind and marked a new phase in the Kremlin's relations to European parties on the far-right, which have been thoroughly described by Anton Shekhovtsov in his recent book [Russia and the Western Far Right: Tango Noir. However, even though one should not underestimate the ideological component of FPÖ's support for Russia, the disapproval of the sanctions is not limited to FPÖ-voters and has at least as much to do with money as with the "protection of traditional values".
Austrian businessmen want to do business; international law and political ethics come second. Infamous are the standing ovations for President Putin at a reception in the Austrian Chamber of Commerce in summer 2014, in the middle of the conflict between Russia and Ukraine. Business is business. Hotel owners and ski lift operators in the tourism-dependent Alpine republic want to get the Russian big spenders back and Styrian fruit growers and dairy farmers are eager to get their eastern export back on track. Such representatives of trade and industry make up a large part of ÖVP's electoral base. Or, as Sebastian Kurz put it, "this has always been good for our economy".
However, this alleged pragmatism can also be harmful, as Ivan Krastev points out in the Security Policy Preview of 2018, published by the Austrian Ministry of Defence last autumn. Austria might seem to be the perfect candidate for the part of intermediary between the Kremlin and the West. Even so, it should refrain from trying, warns Krastev. Adopting the language and position of both sides in this conflict, with little prospect of success, will risk undermining their own position within the EU, he concludes.
The same could be said about Austria's attempt to navigate the choppy inner-European waters. The chances of successfully dumping the migration quota system might be better – a (temporarily?) weakened German government has at least signalized its willingness to postpone EU-wide negotiations on this matter – but Austria is also in this case jeopardizing its position. The failure of the Eastern European member states to take common responsibility for the migrants that are already inside EU borders has opened a rift in the EU which will take years to heal. While the preceding north-south conflict, which culminated in the Eurozone debt crisis, was "just" about money, the current east-west clash is about core values and fundamental perceptions of the meaning and purpose of the European integration project. The disappointment in some Western and Northern European states is genuine and it will matter what side one choses in a dispute that has the potential to break up the Union – even if that breakup is framed as core or multi-speed Europe.
If it is pragmatism one is after, Austria would probably do much better seeking allies among similar states in the West, for example those who joined the EU at the same time back in 1995: Sweden and Finland are both economically and systemically far more comparable to Austria than any of the Visegrád countries, and will therefore also have corresponding long-term interests. The same goes for Germany, Austria's big north-western neighbour.
But perhaps it is not pragmatism that guides the new government in Vienna, after all, but ideology. An old-new concept for the future of Europe.
Before the shooting of the film The Third Man, where Orson Welles' cynical Harry Lime moves like a shadow between the occupied sectors in post-war Vienna, the American producer David O. Selznick wrote a memo to the director Carol Reed, enthusing over the chance to present the Central European metropolis as a microcosm of the East-West conflict – and to agitate for the west.
It seems as if chancellor Sebastian Kurz has quite different plans when he invites his European colleagues to Vienna later this year.
Carl Henrik Fredriksson was born 1965 in Jönköping, Sweden, and lives in Vienna. Co-founder and, from 2001 to 2015, editor-in-chief of Eurozine. Former editor-in-chief of Sweden's oldest cultural journal Ord+Bild. Numerous publications on culture, politics and society. He is a Permanent Fellow at the Institut für Medien- und Kommunikationspolitik in Berlin and in 2014 was a Visiting Fellow at the Institut für die Wissenschaften vom Menschen in Vienna.