Der feierliche Auftakt zum diesjährigen Festival fand am Montagabend vor rund 500 Gästen im Wiener Rathaus statt. Janina Loh von der Stabsstelle Ethik bei der Stiftung Liebenau warf im Eröffnungsvortrag ein kritisches Schlaglicht auf das Verhältnis von Mensch und KI.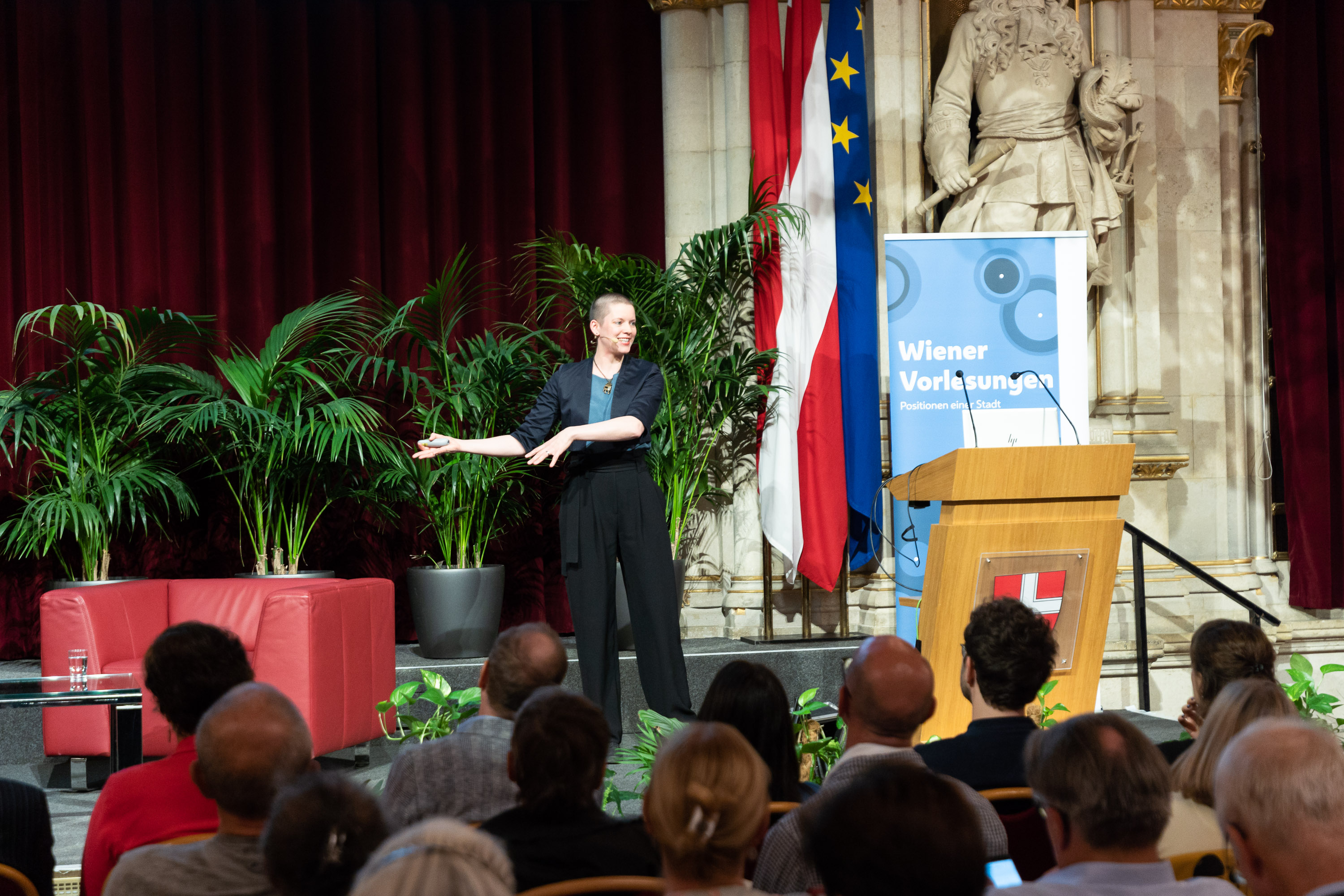 Begrüßende Worte kamen von Veronika Kaup-Hasler, Wiener Stadträtin für Kultur und Wissenschaft sowie Misha Glenny, Rektor des Instituts für die Wissenschaften vom Menschen. Im Anschluss an den Vortrag mit dem Titel "Zwischen Perfektionierung und Überwindung: Kritische Reflexionen zu Mensch und KI" folgte ein Gespräch mit der Journalistin Judith Belfkih.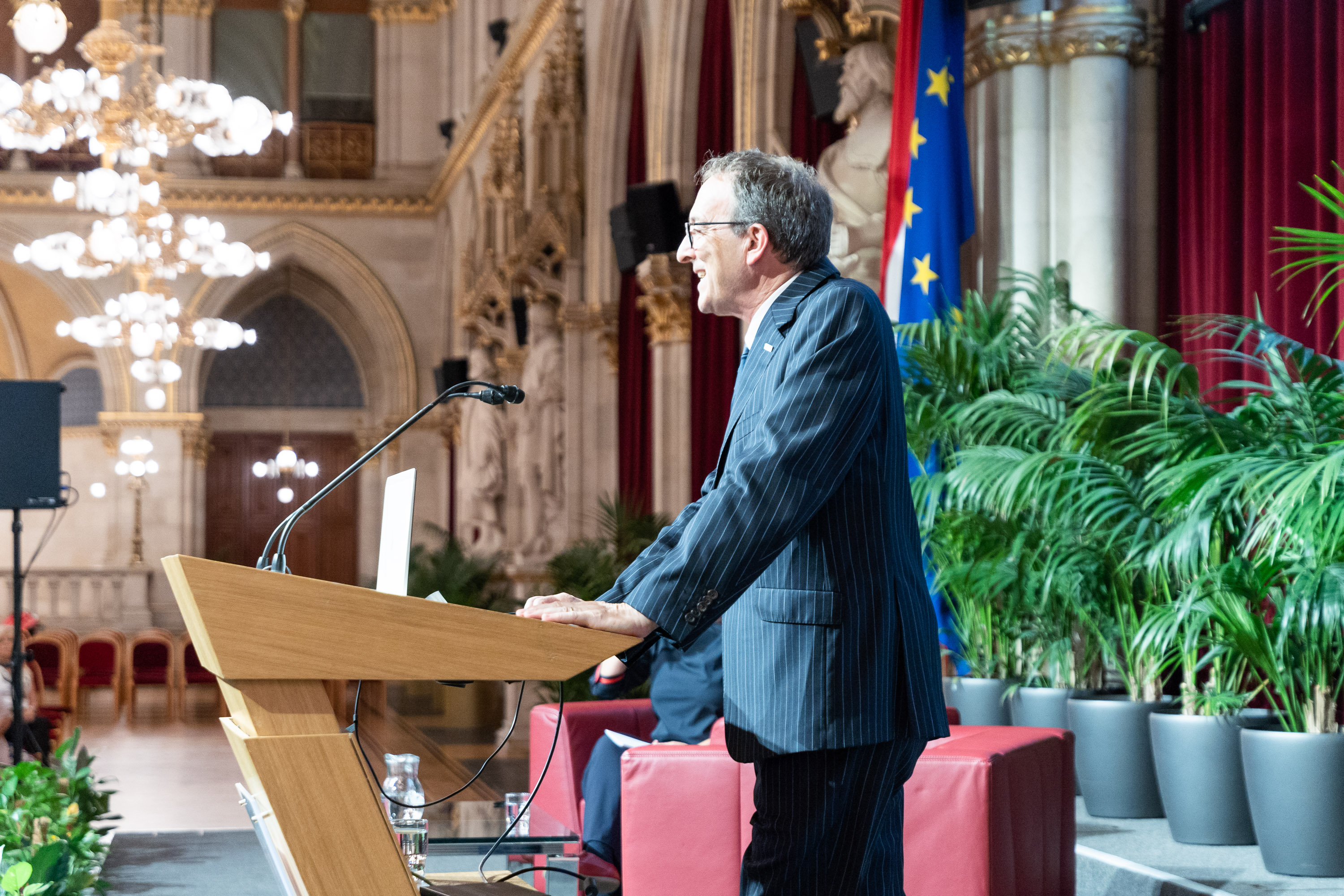 Am kommenden Mittwoch, den 27.9. steht um 19 Uhr im Angewandte Interdisciplinary Lab der zweite Keynote-Vortrag auf dem Programm, in dessen Rahmen der Philosoph und Heidegger-Experte Peter Trawny mit der renommierten Publizistin und Philosophin Isolde Charim über Die Rückkehr der Weltanschauung spricht. Gestern war Trawny zudem in der Ö1-Sendung Punkt Eins zu Gast. Das einstündige, von Xaver Forthuber moderierte Gespräch können Sie hier nachhören.
Das Festivalwochenende am Samstag und Sonntag in der Akademie der Bildenden Künste wartet jeweils von 11 bis 18 Uhr mit über 20 hochkarätigen Einzelveranstaltungen auf, die zum Zuhören und Mitdebattieren auffordern. Neben vielen weiteren spannenden Gästen und Vorträgen diskutieren die Investigativjournalistin Julia Ebner über Die Radikalisierung der Mitte, der Soziologe Oliver Nachtwey über die Allianz des Libertären und Autoritären, der Kunsthistoriker und Kurator Konstantin Akinsha über den russisch-ukrainischen Krieg und die Instrumentalisierung der Kultur sowie die Historikerin Ute Frevert über Gefühlspolitik in Krieg und Frieden.
Ein weiteres Highlight des Wochenendes ist der Besuch von US-Starphilosoph Michael Sandel in Wien, der am Samstag, den 30.9. um 19:30 mit IWM Permanent Fellow Ivan Krastev auf der Bühne des Volkstheaters unter dem Titel "What's Become of the Common Good?" über die gescheiterten Versprechen der meritokratischen Gesellschaft debattiert.
Mehr Informationen zu den Einzelveranstaltungen und das gesamte Programm des Vienna Humanities Festival finden Sie hier.
---
Das Vienna Humanities Festival ist ein Projekt des Instituts für die Wissenschaften vom Menschen und von Time to Talk.
In Zusammenarbeit mit FALTER, Open Society Foundations, Stadt Wien, ERSTE Stiftung, Akademie der Bildenden Künste Wien und Volkstheater.