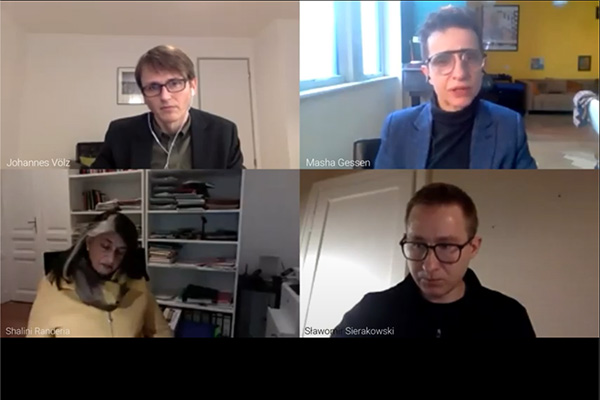 In this panel discussion, now available to watch online, our Rector, Shalini Randeria, together with Masha Gessen, Sławomir Sierakowski and Johannes Voelz share their thoughts on "Democratic Vistas, Autocratic Specters: Must We Reinvent Democracy?".
The discussion took place February 18, 2021. It was the opening event for the new research focus "Democratic Vistas: Reflections on the Atlantic World" at the Forschungskolleg Humanwissenschaften.
Since the storming of the U.S. Capitol on January 6, 2021, there no longer can be any doubt that liberal democracy is under attack. For at least a decade, one liberal-democratic state after another has begun to face pushback – and in many cases take-over – by illiberal populists committed to authoritarian rule.
The specter of autocracy is no longer a hazy apparition; increasingly it is the face of power. Yet at the same time, democracy continues to mobilize movements fighting for progressive change both inside and outside the parliamentary process. Nearly overlooked by Western media, Belarus has been witnessing a forceful struggle for democracy, tirelessly pushed ahead by the collective will of irrepressible women activists (you can read more on Belarus on in our Chronicle from Belarus blog)
Even in the United States, the picture is not all bleak. After all, January 6, 2021, also marks a triumph of multiracial democracy, with an African American and a Jewish American candidate winning the senatorial runoffs in the state of Georgia, and Congress certifying the election of a black woman of color as Vice President. In the blink of an eye, the specter of autocracy gives way to what the American poet Walt Whitman called "democratic vistas."
For more information on the research project »Democratic Vistas: Reflections on the Atlantic World, Please visit the Forschungskolleg Humanwissenschaften website