NEWS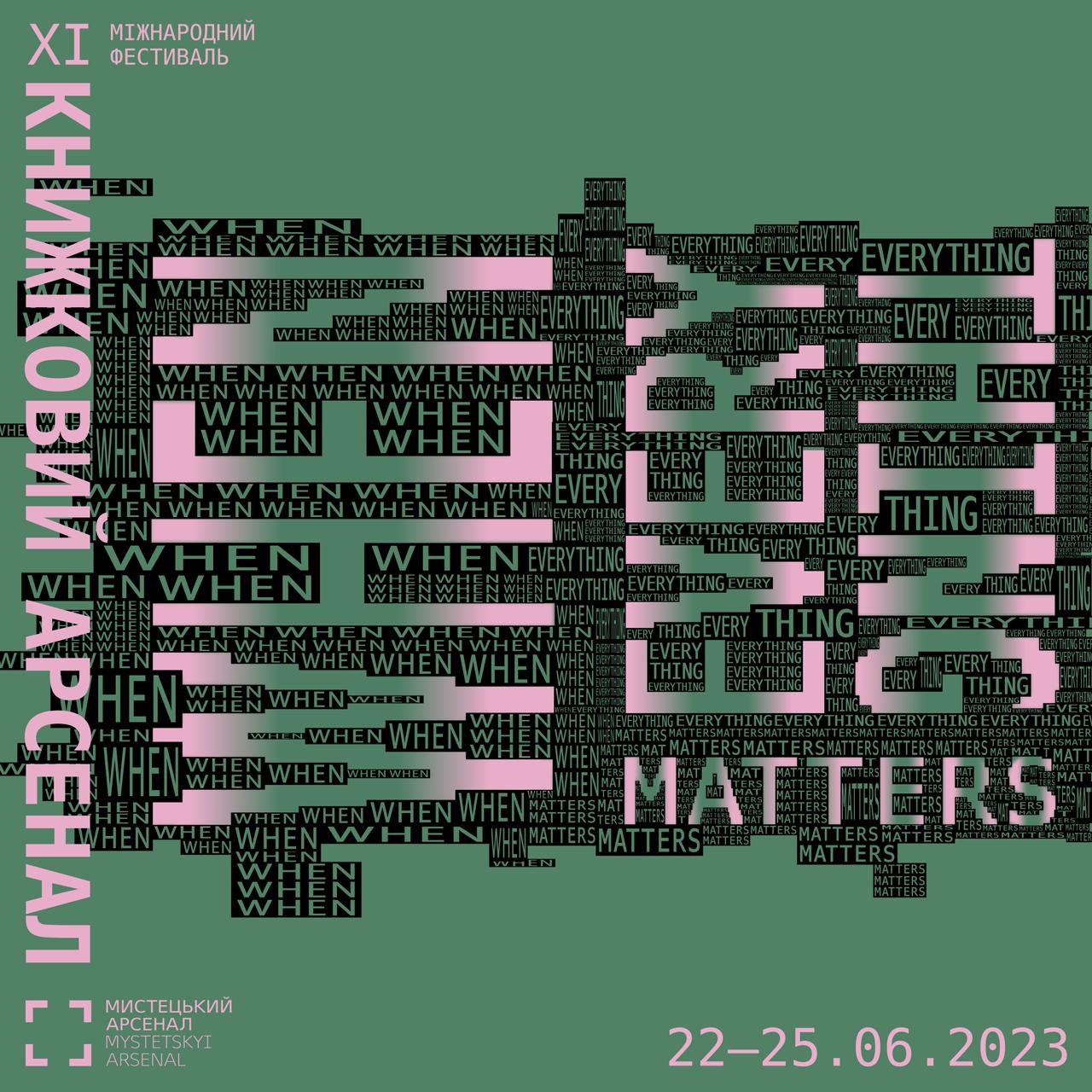 On 22—25 June 2023, the 11th International Book Arsenal Festival will take place. Documenting Ukraine project is a partner in the focus theme "When Everything Matters", which combines discussions, a concert by the "Renaissance" Chamber Orchestra of the Mariupol Chamber Philharmonic, an online lecture by Timothy Snyder, and documentary film screenings.
Several members of the IWM community will take part in Book Arsenal 2023. Katherine Younger, Mariia Shynkarenko, and Ivan Krastev will be in Kyiv, while Timothy Snyder will join online. Many IWM alumni and Documenting Ukraine partners will also be appearing at the festival.
The focus program is curated by Nataliya Gumenyuk, co-founder of the Public Interest Journalism Lab which runs the "Life in War" project in cooperation with Documenting Ukraine. Gumenyuk says in her curatorial statement that "we are living in a time of aggravated reality when almost every word and every phrase acquires its original meaning. As if everything around is going through a reality check. In particular, our values and ideals. […] The 11th Book Arsenal is a space for recognizing, as well as creating a new civic vocabulary for the things that we have not yet verbalized. This is a place where, by reflecting on our current experience, we will be able not only to comprehend, but also to word ourselves and what is going on with us, with society, with the country, and with the world."
Here are some program highlights:
Thursday, 22 June
18:00–19:30
Discussion "Democracy and War". Participants: Artem Chekh (writer and soldier), Andrii Bashtovyi (lieutenant of the Armed Forces of Ukraine, ex-commander of an air assault platoon, and media manager), Lesia Ganzha (military servicewoman and journalist), Yevheniia Zakrevska (military servicewoman and lawyer), Denys Kobzin (military serviceman of the Territorial Defense Forces and sociologist), Pavlo Khazan (lieutenant colonel and ecologist), and Yevhenii Shybalov (serviceman of the Territorial Defense Forces and former prisoner of war). Moderated by Nataliya Gumenyuk.
By fighting against Ukraine, Russia is also trying to prove that democracies are weaker than authoritarian systems and that the world should be dominated by the rule of force. But isn't the army of a democratic country and a democratic society stronger? An army consisting of citizens who consciously chose to defend their country. After all, what is an 'army of a democratic country'? And what does democracy mean in the army? The participants of this conversation are Ukrainian servicemen and servicewomen. When we hear the opinion that today "Ukraine is protecting democracy in the world", what do they say about it? What is the real price of it? How do they see Ukrainian democracy during and after the war?
20:00–21:00
The Concert of the "Renaissance" Chamber Orchestra of the Mariupol Chamber Philharmonic. Conducted by Vasyl Kriachok. Andriy Rakhmanin (solo performer, violin). In cooperation with the Ukrainian Institute.
Friday, 23 June
15:45–16:45
Discussion "How Will Ukraine Change the World?". Participants: Ivan Krastev (political scientist, chairman of the Center for Liberal Strategies in Sofia, and permanent fellow at the Institute for Human Sciences in Vienna), Carl Henrik Fredriksson (literary critic, essayist, founder of the network of European intellectual magazines "Eurozine"), Nataliya Gumenyuk. Moderated by Katherine Younger.
The international security system is showing its inability to save the lives of people who are being killed by crazy dictators. Meanwhile, many Ukrainians believe that by defending their country, they are defending civilization as such. While debates about geopolitics operate with the concept of negative solidarity ('the enemy of my enemy is my friend'), the values that are talked about so much in speeches and lectures are going through the reality check on the Ukrainian frontline. Is the world able to restore the original meaning to the principles and ideals that we consider fundamental to the survival of humanity?
17:00–18:00
Timothy Snyder's Online Lecture "Why Freedom Matters More Than Everything". Focus theme.
Timothy Snyder is an American historian and co-head of the Documenting Ukraine project at the Institute of Human Sciences in Vienna.
For centuries, Ukrainians have fought against various prohibitions, and now they give their lives to protect themselves from enslavement. For people who are kept in torture camps, residents of cities and villages who found themselves under occupation, freedom is not an idea, but something perceivable. However, in general, in post-authoritarian societies, people most often talk about 'freedom from', and discussions revolve around the choice between freedom and security. But why are these things mutually exclusive and not mutually dependent? Ukraine's protection of its borders proves that only a safe territory can be a space of freedom. Ukrainian society also shows the practical effectiveness of freedom. Can such an interpretation of it be unifying for the modern world?
Sunday, 25 June
14:45–15:45
Discussion "What kind of crime is Russia committing?". Participants: Peter Pomerantsev (British writer and co-founder of The Reckoning Project), Oleksandra Matviichuk (human rights activist, Nobel Peace Prize winner), Jonathan Littel (French writer), Wayne Jordash (international lawyer), Yurii Belousov (Head of the Department for Combating Crimes Committed During Armed Conflict of the Office of the Prosecutor General of Ukraine). Moderated by Victoria Amelina.
Executions, torture of prisoners, forcible removal of children, obstruction of evacuation, shelling of civilians, hospitals, and infrastructure... During the 15 months of the war, the army of the Russian Federation committed almost all types of crimes mentioned in the Geneva Conventions. The General Prosecutor's Office of Ukraine has opened more than 80,000 proceedings related to war crimes. Ukraine demands the creation of a special tribunal for the crime of aggression, which it calls 'the mother of all crimes. But what crime is Russia actually committing? What exactly is it trying to destroy, persecuting volunteers, representatives of local self-government, and everyone who does not agree to the occupation? The purpose of this conversation is not to establish the legal qualification of crimes that are prescribed in international conventions but to understand the nature of the great war of the 21st century.
The International Book Arsenal Festival, an annual project of the Mystetskyi Arsenal, is an intellectual event in Ukraine where the publishing, literary and artistic scenes develop and interact with each other, and important issues of human existence, as well as society and culture are raised, prompting the proactive position of the participants and visitors.
In 2022, the festival was cancelled due to Russia's full-scale invasion of Ukraine. The dates of the Book Arsenal, traditionally in May, were marked by a public conversation "Our Great Migration" which reflected a new dimension of the focus theme of the festival.
Book Arsenal will be held in 2023 amidst the full-scale Russo-Ukrainian war, and will focus on the transformation of the country, values and meanings of democracy that Ukrainians are fighting – and dying – for.