'Life in War' is a multimedia chronicle of Ukraine's reality in times of war. The mission of the project is to document the modern history of the country against the backdrop of the Russian-Ukrainian war so that future generations and the world can better understand these events.
The project was born in the team of the Public Interest Journalism Lab (Ukraine) in cooperation and with the support of Documenting Ukraine, along with other partners. The head of the project is Nataliya Gumenyuk, a Ukrainian documentary filmmaker and journalist specializing in conflict coverage; the project coordinator is Inna Nelles.
Since the beginning of the full-scale Russian aggression, the life of every Ukrainian family, every Ukrainian company and city has changed. Every day the war takes the lives of Ukrainian defenders, tortures and kills civilians. Cultural heritage is being destroyed, some Ukrainian cities have been turned into ruins, millions of Ukrainians have left their homes in search of shelter, and tens of thousands of them have no place to return to. The Ukrainian state, the international community, human rights defenders, and journalists are documenting all these war crimes of the Russian militaries in order to bring the aggressor to justice.
But despite the pain and losses, the citizens of Ukraine resist – at the frontline and in the back – and undeniably believe in their victory. People live, create new families, and even in bomb shelters little Ukrainians are born. Life returns to the liberated cities; communities are united by mutual aid; volunteers, as a blood-bearing system, supply the essentials to all parts of the country; families who have been forced out of their homes by the war find the strength to start everything again in a new place.
Through Life in War, Documenting Ukraine is supporting over 30 media outlets across Ukraine as they report and produce print, visual, and video materials about people's lives during wartime. These stories are published on the outlets' own websites and can be browsed via the Life in War web platform.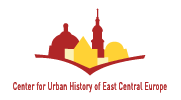 Center for Urban History / Центр міської історії
With the start of the full-scale Russian invasion of Ukraine, the Center for Urban history mobilized its capacity and expertise to initiate wide-ranging documentation projects, focusing on oral testimonies, visual documentation, Telegram sources, and diaries and dreams of the war. Building on the longstanding partnership between the Center for Urban History and the IWM, Documenting Ukraine was able to support these projects through non-residential fellowships and grants.
Learn more about the CUH's documentation work here.

Fortunoff Video Archive for Holocaust Testimonies
As Documenting Ukraine looks to the past to inform its work in the present, we benefit immensely from the insight and experience of the team of the Fortunoff Archive in thinking about how to create a sustainable documentary record amidst the exigencies of wartime. The Fortunoff Archive and Documenting Ukraine have also partnered to award non-residential fellowships.