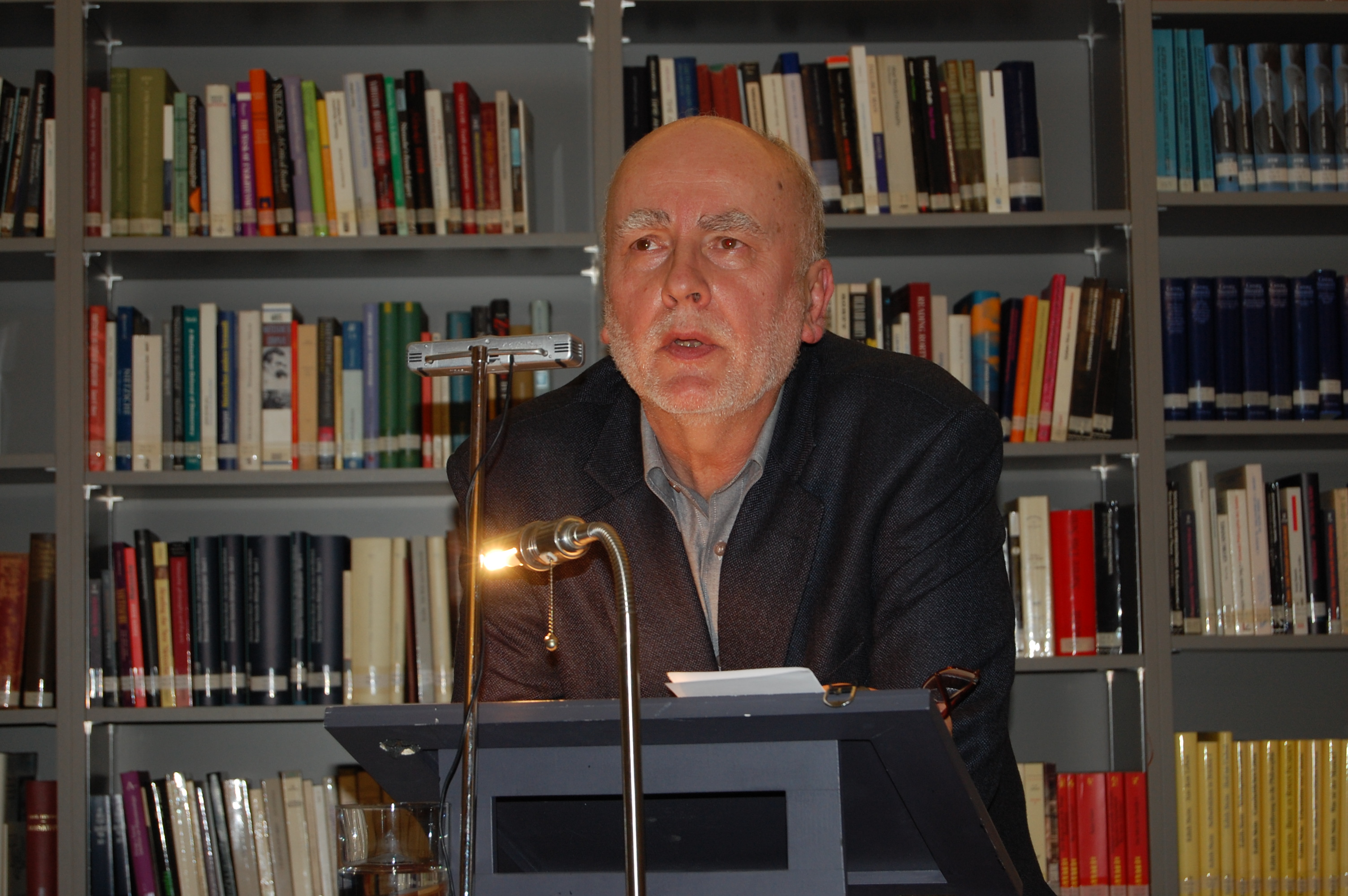 Erinnerung an Adam Zagajewski
(Lemberg/Lviv 1945 – Krakau/Craców 2021)
Er war einer der Großen der Weltliteratur. Seit Jahren galt er als einer der ersten Anwärter auf den Nobelpreis für Literatur.
Am 21. März starb Adam Zagajewski. Mit ihm verliert die polnische Literatur nach Czesław Miłosz und Wisława Szymborska einen weiteren Dichter von Weltrang.
Zagajewski war ein Freund und langjähriger Begleiter des IWM. Mehrfach war er zu Gast im Institut. Im März 2008 hielt er einen Monatsvortag, in dem er über sein vielleicht wichtigstes Thema nachdachte: die Bedeutung der Poesie in einer zunehmend verarmenden Erfahrungswelt.
Wir erinnern an den Dichter mit einer kleinen Auswahl von Texten und Fotos. Einen wunderbaren Abschiedsbrief hat ihm der ukrainische Essayist und Übersetzer Jurko Prochasko (IWM Fellow 2014/15) ins "Himmlische Lemberg" geschickt. Er bildet den Abschluss dieser kleinen Würdigung – zunächst das deutsche Original, nachfolgend die englische Übersetzung von Marci Shore.
Ausgewählt haben wir auch zwei Gedichte Zagajewskis. Sehr bezeichnend für sein Denken und Leben ist "Das Lied des Emigranten" (Piosenka emigranta). Es endet mit dem bezaubernd-traurigen Satz: "In fremden Städten werden wir bleiben, wie Bäume, wie Steine." Das Gedicht erschien 1992 in der Übersetzung von Karl Dedecius in Transit (Nr. 3) und korrespondiert auf schöne Weise mit Jurko Prochaskos Abschiedsbrief aus der Heimatstadt, die dem Dichter doch keine Heimat sein konnte.
Es folgt – zunächst im polnischen Original, sodann in deutscher Übersetzung von Julian Pokay –  Zagajewskis poetische Würdigung für seinen Freund, den IWM-Gründungsrektor Krzysztof Michalski. "Nur das, was unmöglich ist, kann wunderbar sein", so heißt es dort. Gemeint ist es wie immer bei Zagajewski: ganz konkret, einfach und klar, antimetaphysisch.
Wir erinnern an den wunderbaren Dichter Adam Zagajewski, der auf dem Königsweg der Poesie das Unmögliche in ganz einfachen Worten zum Strahlen brachte: In fremden Städten werden wir bleiben, wie Bäume, wie Steine.
Marci Shore/Ludger Hagedorn
Gedichte
Abschiedsbrief: Nach Lemberg fahren
Jurko Prochasko
Es geht um die Stadt, in der Du geboren bist, oder besser gesagt geboren wurdest, und wo ich wahrscheinlich sterben werde, wo ich jedenfalls am liebsten sterben würde, so Gott will, so lieb ist sie mir, so unentbehrlich.
Du musstest diesen Ort früh verlassen, hast Du ihn entbehrt? Eigene Erinnerungen daran hattest Du ja nicht, konntest Du nicht haben, so blieb das Zusehen und das Zuhören, die Erinnerungen der Vertriebenen, die nach wie vor dort lebten, von wo sie vertrieben wurden, in der ersten der zwei Städte. Meistens ist die Vertreibung der wichtigste Existenzbeweis des Paradieses, manchmal sogar der einzige.
Damals, in Krakau, hast Du mir auf der Straße das Kärtchen mit deinem Namen und der e-mail-Adresse, noch von der US-amerikanischen Universität, handgeschrieben, in die Tasche gesteckt, mit der Aufforderung, doch zu schreiben und dich doch natürlich zu duzen.
Natürlich habe ich mich nie getraut, duzen schon, anschreiben niemals. Wollte die Weltliteratur nicht stören, die sowieso zu mir kam. Ab und an sahen wir uns wieder, immer wieder sah ich deinem schönen Altern zu, Du wusstest immer meinen Namen und den meiner Stadt sowieso.
Nach Lemberg fahren! Du hast die erste Gelegenheit ergriffen, dies zu tun. Du bist wirklich gekommen, in den Neunzigern, hast dich nicht geweigert, jemals diesen Boden zu betreten, anders als Lem. Gut, eine andere Ausgangslage, verständlich, aber er hat auch nicht Jechać do Lwowa geschrieben, sondern Wysoki Zamek. Besuche deine Erinnerungen.
Heilsam war dir die Erfahrung, in das eigene Geburtshaus von der Alten reingelassen zu werden, heilvoll war uns damals dein Kommen, nicht minder. Dann warst Du hier noch einige Male, immer wenn sich die Gelegenheit bot. Nicht gescheut hast Du dich vor Verlust. Es gab so viel Verlust, dass die beste Strategie wohl darin bestand, sich damit auch zu versöhnen. Verluste in poetische Errungenschaften zu verwandeln, in flimmernde Funde. Die verletzte Welt zu besingen.
Das Verlorene sehen mit Trauer und Lust doch ohne Begehren, aber auch ohne Abstand. Mit Mitleid. Als etwas, was niemand besitzt und was sowieso nie weg ist. Und immer sein wird. Auch im Himmlischen Lemberg. 
To Go to Lviv
Jurko Prochasko 
It's about the place where you were born, or perhaps it would be better to say, where you had been born, and where I likely will die, in any case the place where I would most like to die, God willing, so much do I love, and need, it.
You had to leave here very early. Did you miss this place? You did not have, could not have had, your own memories of it. You must have been gazing upon, and listening to, the memories of those who, having been banished, still lived there, in the place from which they had been banished, in the first of the two cities. So often banishment is the decisive evidence, and sometimes the only evidence, that paradise exists.
Once, on the street in Kraków, you wrote your name and your email address, an address given to you at an American university, by hand on a little card. You put the card in my pocket and invited me to write to you, and to call you, of course, by your first name.
And of course I didn't dare—to call you by your first name, yes, but to write to you—never. I didn't want to trouble world literature with myself, although all the same world literature came to me. From time to time we saw each other again, and I observed how you were growing old, beautifully. And you always knew my name, and anyway, the name of my city.
To go to Lviv! You seized the first opportunity to do so. You came in the nineties. Unlike Stanisław Lem, you did not refuse ever to set foot on this ground. True, Lem, understandably, was beginning from a different place. Yet it's also the case that he did not write "To Go to Lviv." He wrote Highcastle. Come and visit your memories.
Being let by the old woman into the house where you were born was healing for you. Your coming to this city was no less healing for us. Later you came here several more times, whenever the occasion offered itself. You did not shy away from loss. There was so much loss, the best approach was to reconcile oneself to it. Turn losses into poetic achievements, into findings that glimmered. Praise the mutilated world.
Take in what has been lost with sorrow and desire, yet without covetousness, and without distance. With compassion. As something owned by no one, and something that never goes away. Something that always will be. Even in the Lviv in the hereafter.