The transition from imperial domination to European integration is one of the core themes in recent European history. Ukraine´s history is in that sense a microcosm of a much wider story. In his keynote speech 'Ukrainian History as World History 1917-2017', part of the conference Revolutionary Ukraine: A Reflection on 1917 and Its Aftermath the IWM-based historian Timothy Snyder sees these transformations at play already in 1917. The concept of the nation-state was already the rallying flag of the anti-imperialist movements raging in the Balkans against the Ottoman Empire. The Ukrainian experience, because of its position on imperial peripheries, therefore, resonates with European and global themes.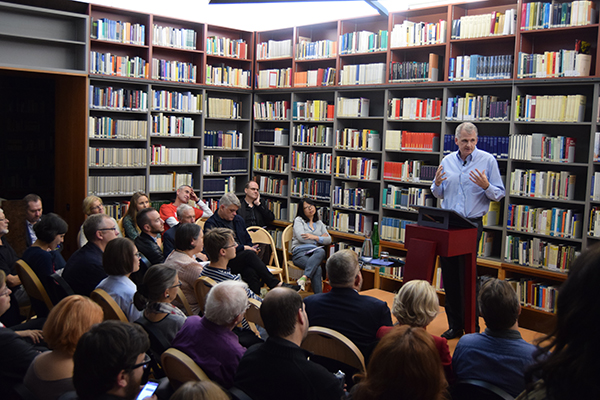 Even though internal divisions characterize virtually every post-communist country, it was a determining factor in Ukraine´s (under)development, argues Ukrainian journalist and academic Mykola Ryabchuk. His 2002 essay Ukraine: One State, Two Countries? With Comments (in Tr@nsit online, Nr. 23/2002) explores this 'ambivalence' as a socio-political phenomenon. The author asserts that it emerged from Ukraine´s regional, cultural and linguistic differences as well as from Soviet totalitarianism. Even if the elites of the immediate post-independence period used these divisions to their advantage, Ryabchuk contends that a nascent civil society in Ukraine has the potential to transcend its post-Soviet ambivalence toward democratic plurality and, hopefully, subsequent unity. There are important replies to Ryabchuk´s essay, for instance Tatiana Zhurzhenko The Myth of Two Ukraines. She is looking for avenues of unity behind the surface cracks that split apart a supposed 'europeanized´ West from a more ´russified´ East. Roman Szporluk in his commentary Why Ukrainians are Ukrainians  argues that we need to understand Ryabchuk´s concept of ´ambivalence´ in more historical terms: unlike other post-Soviet countries, Ukraine as a political entity was only firmly established in 1991, and its civil society and statehood are still very immature.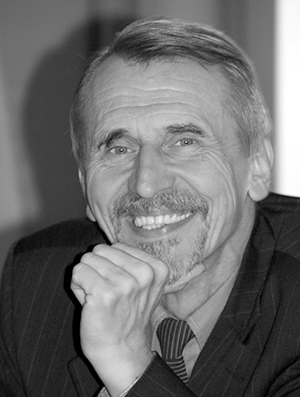 One strategy to transcend internal divisions has been suggested by the Ukrainian historian and public intellectual Yaroslav Hrytsak. His 2010 essay 'Ukraine 1989: The Blessing of Ignorance' (in Tr@nsit online) sketches out a strategic compromise around identity issues, such as the status of the Russian language, foreign policy orientation and historical memory.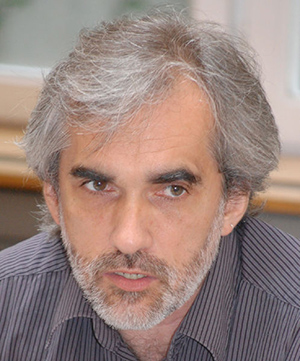 One of the foremost contemporary Ukrainian writers Yuri Andrukhovych explores a peculiar aspect of Ukraine's independence with the project The Festival Age (1988-1993) Was there a Phenomenon? Toward the 30th Anniversary of Ukrainian new Independent Culture. He started his research at the IWM as a Solidarity Fellows and describes his first findings in IWMpost #126. The Festival Age project strives for a consistent recollection of several significant cultural events that fundamentally influenced Ukrainian society and art nearly three decades ago, and how has it reflected the Zeitgeist of Eastern Europe during that time?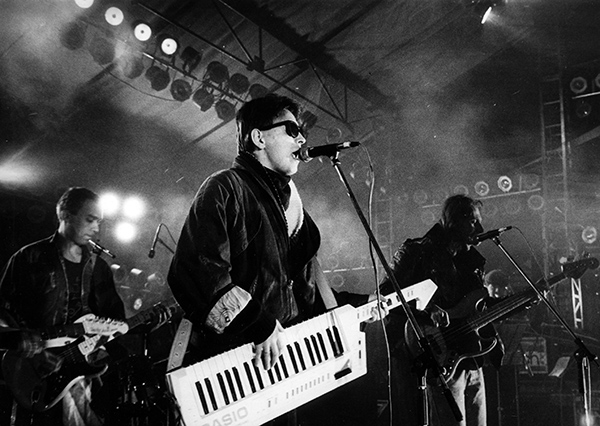 Any account of the history of Ukraine has to include two of the most significant events of the XXth century – the Holocaust and the Chornobyl catastrophe. Award-winning historian Serhii Plokhii and international lawyer Philippe Sands present their investigations of Nazi war crimes and of one of the most striking ecological crises to occur. Their 2019 conversation 'Humanity and Catastrophe' was part of the conference Between Kyiv and Vienna: Histories of People, Ideas, and Objects in Circulation and Motion and aimed at finding ways to understand the destruction and mayhem of the XXth century.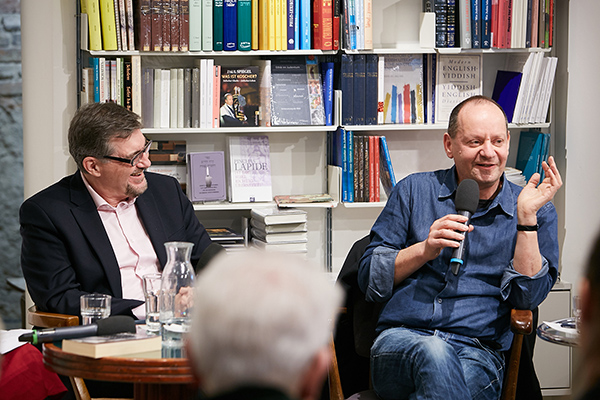 Ukraine has been marked by political upheaval. The Euromaidan movement, labelled as the 'revolution of dignity', took place between November 2013 and February 2014. It has been defined by many commentators and participants as the birth of Ukrainian civil society. The program 'Ukraine in European Dialogue' at the IWM started at that time as well, from a need for closer communication and greater exchange between Ukrainian and western scholars.
The whole issue number 45 of Transit magazine 'Maidan - The Unexpected Revolution' in German "Maidan – Die unerwartete Revolution", which was published at the IWM was devoted to the Maidan events. Ukrainian intellectuals were invited to write about their revolutionary experience.  
One of them is Kharkiv-based translator and literary editor Zaven Babloyan, who was born in Moscow and spent his childhood in Luhansk. A fellow at the IWM in September 2014, his reflections have been presented in a thoughtful interview with social scientist Tatiana Zhurzhenko for 2014 Tr@nsit online 'Kharkiv Talks in a Viennese Kitchen – On Revolution, War and Literature in Ukraine'.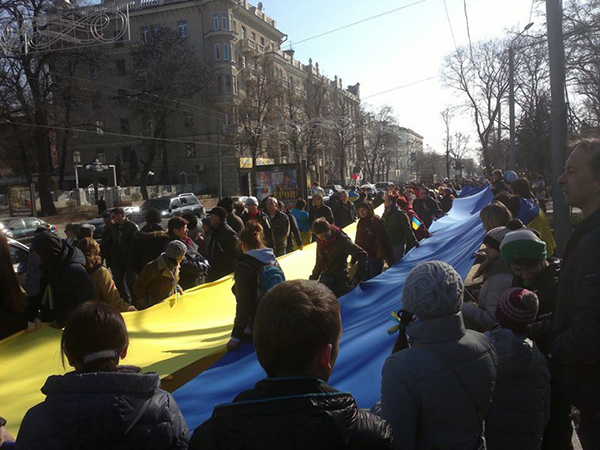 In summer 2014, right after the Euromaidan, Timothy Snyder and Tatiana Zhurzhenko gathered a collection of the impressions of those who witnessed the events on the ground. Published by IWM's partner magazine Eurozine, the 'Diaries and memoirs of the Maidan' reflect on the role of civil society and its key role in nation building. 
Over the past years the fellows hosted by the program Ukraine in European Dialogue have presented their works during the IWM yearly conference. Olha Martynyuk has worked on Kyiv's architectural landscape, and on how the division between the city's uptown and downtown reflect the livelihoods of its inhabitants in her 2012 essay 'Sacred Hills and Commercial Downtown: Ethnic Meanings of Urban Spaces in Late Imperial Kiev'.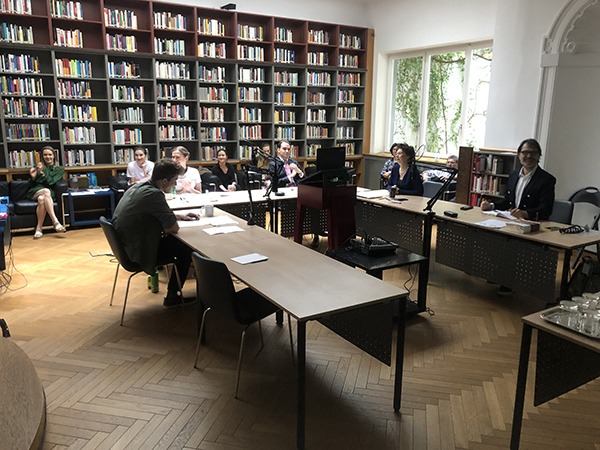 Mykola Balaban worked on the microhistory of Lviv during the beginning of the Second World War in his 2019 conference paper 'Two Weeks of Interconnected Violence in Lviv Prison Massacres, Anti-Jewish Pogroms and Murder of Polish Professors on June 22th – July 4th, 1941'. 
2021 Fellow Iryna Sklokina has written on the practices of commemoration of the Second World War and on how public monuments in post-Soviet countries are being reappropriated as leisure spaces. In her essay for IWMpost #127 'Holy Places and Leisure Spaces' she explores how international tourism is a key determinant in understanding the performative aspects of commemoration culture.